In Tune Ministries features the contemporary vocal artistry, transparent testimony, and violin mastery of Bill, Jeanine, Brienne and Heather Murk who together form the group Myrrh. Combined the group members have thirteen albums to their credit, two of which have been featured in the "Top Ten" on radio stations around the country. Ministering for churches, conferences, conventions, and crusades, the Murk's travels have taken them to all fifty states and over twenty foreign countries.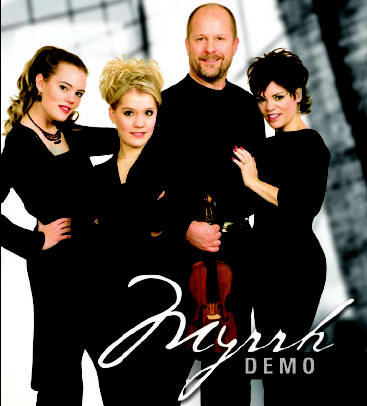 ·A concert with Myrrh features the group's contemporary vocal harmony along with Bill's innovative violin artistry
Excellence in music with a powerful message of hope and healing
A repertoire that blends pop Christian contemporary with praise and worship
A bridge between the generations
In Tune Ministries offers much more than just Christian entertainment. Between group performances, solo concerts, and seminars, In Tune Ministries has something for whatever you may be planning. Consider one of the following formats for your next event:
Myrrh Concert – Between a repertoire that blends pop, Christian contemporary music and praise and worship and their powerful message of hope, Myrrh effectively bridges the musical gap between the generations.
Violin/Fiddle Concert – Bill Murk's virtuosity and fresh approach shatters stereotypes and draws people into the presence of the Lord.
Women's Retreats, Conferences, and Seminars - Jeanine's powerful teaching crucifies common Christian clichés, while her vulnerability and insight provide the necessary tools for living victoriously in the midst of life's difficulties.
Youth Ministry – Brienne and Heather's contemporary music and workshops are geared toward helping youth live their faith out loud in the real world and live in the power of God's A.N.O.I.N.T.I.N.G.
Call 888-286-9694 to schedule your next event!