Myrrh features the contemporary style and vocal harmony of Bill, Jeanine, Brienne and Heather Murk. Combined, the group members have ten albums to their credit, two of which have been featured in the "Top Ten" on radio stations around the country.
<![if !supportLineBreakNewLine]>


<![endif]> Bill Murk is one of the premier Christian violinists today. (He studied under pupils of Leopold Auer and Jascha Heifetz.) His rare, sensitive display of violin mastery and fresh approach breaks stereotypes and inspires a new appreciation for this instrument! He is a featured soloist at praise gatherings, churches, conferences, conventions, and crusades.
Jeanine Murk is a gifted vocalist and insightful speaker who communicates a contagious joy. Her "victim to victor" testimony encourages listeners to conquer their difficult circumstances through a deeper intimacy with God. Wounded hearts are healed, faith is fortified, and the body of Christ experiences renewed hope.
Brienne and Heather Murk captivate audiences of all ages with their personal

testimony and musical ability. Together, they have developed a seminar for youth that focuses on living one's faith in everyday life. In addition to being a full-time college student, Brienne manages In Tune Ministry's offices, and is a writer and public speaker with published works in various national magazines and newspapers. Her first book, Eyes Wide Open, is being released with Regal on July 2, 2007! Heather recently completed her second CD entitled Dreams, plays piano, percussion, and guitar and writes much of the music Myrrh performs.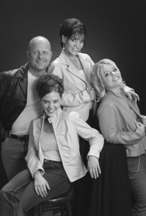 Myrrh's ministry is much more than just entertainment. As a family anointed for music ministry they have, for twenty years, led churches and other Christian organizations in worship and praise to our Lord. In their weakness, God has shown His strength by using their journey to spread the oil of joy through contemporary Christian music, and to be a balm of hope and peace to the weary and brokenhearted.
Although originally known by their family name, the Murks felt God leading them to change the name of their group to Myrrh in the spring of 2002. Since their name change, hundreds have commented on how they felt bathed in a sweet smelling fragrance as they listened to the music and testimony, and were drawn into the presence of the King. Between their inspiring testimony, unique sound and Bill's innovative violin artistry, Myrrh effectively bridges the musical gap between the generations.
If you are interested in having Myrrh minister at your church please fill out our Information Request form and we will be in contact with you!